When superstars like Dolores Huerta, co-founder of the United Farm Workers, and Elizabeth Guzman, a pioneer Latina in the Virginia House, swear by a BlueCard, you know they are on to something.
The Fairfax County Democratic Committee (FCDC) BlueCard is a powerful tool to empower diverse Democratic voters to turn out on Nov. 5 – or earlier.
The BlueCard is what its name implies – a postcard-sized document filled front and back with voter information and a reference to the FCDC voter website (here), where a trove of useful data and links resides.
This website is the quickest, easiest place to manage all voting needs in Northern Virginian counties: registering or updating address, verifying polling place, voting early (in-person absentee), photo ID, restoring rights, and valuable practical tips hard to find anywhere else on student voting and getting help at the polls.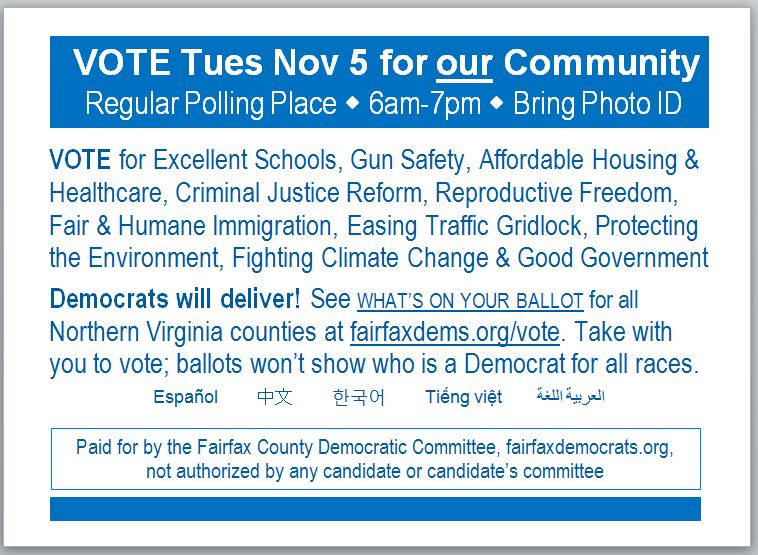 But the website does more. Did you know that only two of the 13 races on the ballot (delegate and state senator) show party affiliation? So how do voters identify the Democrats for the 11 others, including Fairfax County School Board and Board of Supervisors? The answer: users can simply enter their addresses to see the Democrats on their ballot. This helpful lookup tool is not only in English but also Spanish, Chinese, Korean, Vietnamese and Arabic. Check it out!
In fact, the entire voter info site is in Spanish as well as English and contains links to the Democratic slates in Loudoun, Prince William and Arlington Counties, as well as Alexandria City. That is one reason why Ms. Huerta, now a voter rights advocate, is a strong proponent of the BlueCard, and why the campaign of Del. Guzman, whose 31st district includes parts of Prince William and Fauquier Counties, has already left BlueCards at close to 2,000 canvassed doors, and has taken 2,000 more this week for herself and other candidates.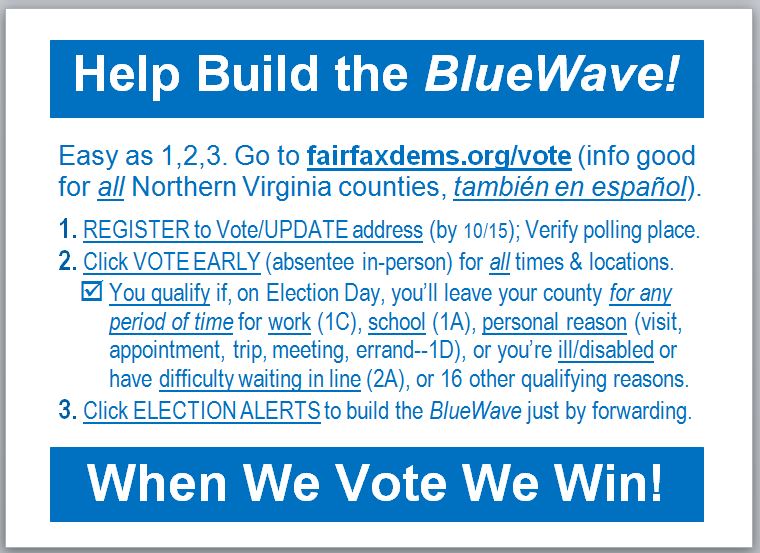 In total, more than 40,000 BlueCards have been printed, and almost half have already been distributed. At events or as part of canvassing, they are a proven way for increasing voter turnout. And in the upcoming election Nov. 5, turnout could be the key to Democrats flipping the General Assembly for the first time in decades.
Jeremy Cullimore, director of the FCDC Coordinated Campaign, enthused, "These [BlueCards] are great. I will pass on to my FOs [field officers] to help get the word out!"
FCDC's BlueCards are available at the Coordinated Campaign offices (2943 Hunter Mill Road in Oakton and 6821 Richmond Highway in Alexandria), FCDC headquarters ( 8500 Executive Park Ave., Suite 402, in Fairfax), and some other campaigns' offices.
As FCDC volunteer Todd Thurwachter recommends, "Whether knocking on doors or staffing tables at an event, don't engage a voter without FCDC's BlueCard, our little turnout booster. "
Photo: (L-R) Volunteer Todd Thurwachter supplies famed voting rights advocate Dolores Huerta and state Del. Elizabeth Guzman with BlueCards, a proven tool to improve voter turnout
Like this story? Share it on social media!