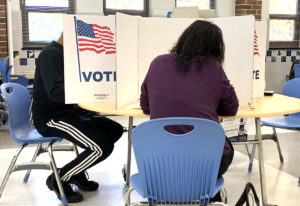 Democrats took control of the Virginia House and Senate on Tuesday, and consolidated their legislative hold in Northern Virginia as Dan Helmer ousted Republican incumbent Del. Tim Hugo in the 40th District (Centreville) to make the region a solid sea of blue.
Democrats also swept to victory in local elections in Fairfax County, with two challengers defeating Republican school board incumbents to take all 12 school board seats. Laura Jane Cohen of Springfield bested Elizabeth Schultz by 51% to 42% while Stella Pekarsky cruised to victory in Sully District with 59% to incumbent Tom A. Wilson's 41%. Democrats now hold with certainty all but one of the 27 elected posts in the county – 9 of 10 Supervisors, all 12 School Board members, 3 elected Soil & Water Board members, Sheriff and Commonwealth's Attorney.
As of Wednesday morning, Pat Herrity, incumbent Springfield supervisor, the last Republican officeholder, was holding a narrow lead over Linda Sperling, a marketing manager and former college professor, with provisional ballots due to be counted on Friday.
Sen. Dick Saslaw, who has represented the 35th district (Springfield) for 40 years, will now become majority leader in Richmond. With unified control over both houses and the governor's mansion, the Democrats are expected to enact legislation long stymied by Republicans, including gun control, passage of the Equal Rights Amendment, and measures to block discrimination based on sexual orientation.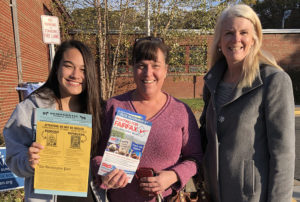 The Democrats' clean sweep of the Fairfax County School Board vindicated their decision to focus on issues of "equity" in public schools, such as widening access to advanced academic courses, emphasizing restorative justice in discipline, and addressing gaps in special education. Some Republican candidates had tried to alarm voters by suggesting the Democrats would initiate widespread busing to bring about greater racial integration but the Democrats dismissed these charges as scare tactics.
The other major advance in northern Virginia was Dan Helmer's convincing win against Tim Hugo, who had served 16 years as a state delegate. Hugo tried to avoid identification with Donald Trump and highlighted his record in serving his constituents. But Helmer, a consultant and former Army lieutenant colonel, organized a ground game that penetrated into all parts of the district.
"Together we knocked on more doors than any other delegate campaign in the state," said Helmer shortly after the win.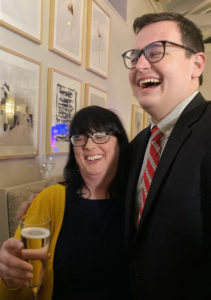 Other big winners in the region included Jeff McKay, who went from Lee District Supervisor to chair of the supervisory board with two thirds of the vote against Republican challenger Joseph Galdo.
In addition, Steve Descano, a former federal prosecutor, won as Commonwealth's Attorney on a campaign of social justice in law enforcement, despite the decision of the current officeholder, Democrat Ray Morrogh, whom Descano defeated in a primary, to endorse Descano's opponent, Republican Jonathan Fahey.
Complete Virginia local and legislative election results are available from The Washington Post, among other sites.
Photo at top: Democrat Dan Helmer and his wife Karen celebrate his win. / Photo by Susan Laume.
Like this story? Share it on social media!