By Susan Laume:
Laura Jane Cohen worked hard to protect children long before she decided to run for elected office.  Cohen, the Democratic endorsed candidate for Springfield District's seat on the Fairfax County School Board, heard the terrible news of a mass school shooting in Connecticut one day seven years ago as she was substitute teaching at her local elementary school – a school where her own children attended kindergarten and second grade.
As she pictured the horrors endured at Sandy Hook Elementary on that day, Dec. 14, 2012, she wondered how she could protect her students when her classroom didn't have doors to lock or hide behind.
"I was afraid that those doors might be the very thing that would save our lives in the event of an emergency at our school," she said, "so I worked to change that and five months later was able to lock the door on my own [school's] classroom."
Cohen's decision to run was borne out of that mass shooting tragedy, and because she saw the need for solutions beyond teaching today's children to hide in their school rooms. These gun violence tragedies are so much more real than an earlier generation's fear that put children under their desks preparing for a Russian nuclear danger that never came.
Now Cohen is locked into a tough race against Elizabeth Schultz, a Republican incumbent who has held the seat for eight years. This election is considered key by both parties. Voting is Tue., Nov. 5, at which time all of Virginia's state legislators will be decided, as well as local offices such as Fairfax County Board of Supervisors, School Board, and Soil and Water Board. (For information on voting and a sample ballot of Democratic candidates for your jurisdiction, please visit the website of Fairfax County Democratic Committee.)
Gun violence is not the only area of concern for children that Cohen focuses on.  She believes that, "Every student deserves a high quality education that meets their specific needs and values their unique strengths and abilities." She has been a champion for special needs children and their parents, and for LBGTQ students and staff.  She has pledged to ensure that students are offered alternatives in their pathways to careers, either through academics, or technical career paths, so all are prepared for the changing economy regardless of disability or other challenges.
Now a small business owner, Cohen's past experience includes teaching preschool and as a long-term substitute teacher at the elementary school level. She served in the area Parents Teachers Association (PTA) — as president for two years, as co-chair of the staff relations committee for three years, and as appointee to the School Board's Career and Technical Education Advisory Committee. She continues to volunteer as a PTA member today.
Cohen is proud to be the daughter of two school teachers, and a teacher's grandchild. Having a grandfather who was a school bus driver keeps her mindful of the needs of school support staff, along with teachers and students.
Cohen has been a Fairfax County resident for over 20 years. Originally from Georgia, her prior work experience includes work for Georgia's lieutenant governor as a session aide and for Georgia's  secretary of state, charged with interaction with school kids who visited the capital to learn about government.
Laura Jane and her husband Seth, have two children, Sylvia, 14, and Lucas 12 years old.
"I have also gotten to see my own kids and my former students grow in the Fairfax County Public School system and seen firsthand their successes and their struggles," she said.
"For me, getting an opportunity to see both sides of what it's like to have a student in public school, not only at school but also at home, and from the teacher and parent perspectives, is a unique opportunity to see what they really struggle with." Cohen recognizes the value of this knowledge for use in her school board deliberations.
Photo: Springfield School Board candidate Laura Jane Cohen, a former teacher, champions high quality education for all in a protected environment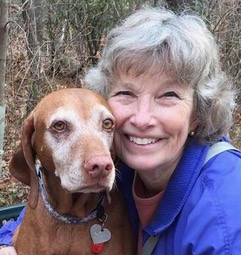 Susan Laume is a member of the Springfield District Democratic Committee and director of the Virginia Dog Army, an animal advocacy group.  She and her dog work as a therapy dog team.
Like this story? Share it on social media!